Publication date 07/04/2019 - 09:12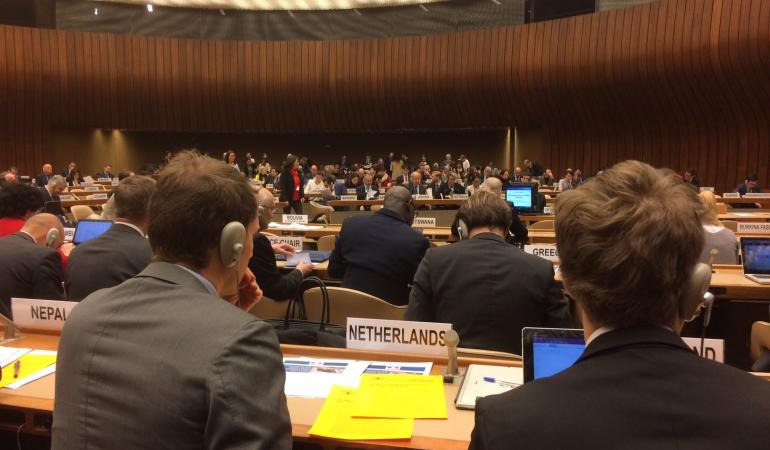 The Biosecurity Office regularly attends meetings abroad with the aim of sharing knowledge, obtaining knowledge and networking. For example, we will soon be attending a biosecurity workshop in Lausanne, a workshop in the field of Novel Practices in Biosecurity Governance in Cambridge and we will be organizing a satellite meeting on new biosecurity tools during the conference of the Biological Weapons Convention in Geneva.
The purpose of "Biosecurity Office International" is to inform you about our activities abroad. Where have we been and where can you possibly meet us. If you are going abroad and want to share biosecurity knowledge and information there, do not hesitate to contact us. We may be able to support you with material we have on the shelf or with sharing experiences we have gained in certain countries.
Biosecurity workshop Lausanne
The biosecurity workshop in Lausanne is co-organized by the North Atlantic Treaty Organization (NATO) and is about exploring potential threats from emerging technologies such as synthetic biology and biotechnology. Despite the potential benefits of synthetic biology, there are also significant uncertainties regarding potential risks to humans and the environment. One of the aspects of the ongoing discussion includes biosecurity and that synthetic biology can potentially be misused for malicious purposes. The aim of this workshop is to discuss potential biosecurity risks with scientists, policy makers and practitioners in synthetic biology and risk assessment and to determine strategies for cooperation in the field of supervision and future regulations.
Biosecurity workshop Cambridge
The workshop is about Novel Practices in Biosecurity Governance, where there will be discussion with various scientists and experts in the field of biosecurity about the way of organizing and propagating best practices with regard to biosecurity and dual-use research. The tools of the Biosecurity Office can contribute to this. In addition, the Biosecurity Office can use the insights gained during the workshop to support the policy and also the field with regard to the implementation of biosecurity policy.
Conference of the Biological Weapons Convention
The Biosecurity Office will be an expert for the Dutch delegation at the Meeting of Experts of the Biological Weapon Convention (BWC) in Geneva. In addition, the Biosecurity Office organizes a side event together with colleagues from Malaysia, Canada and Uganda. In this meeting, various biosecurity tools are discussed.