Publication date 05/08/2023 - 09:03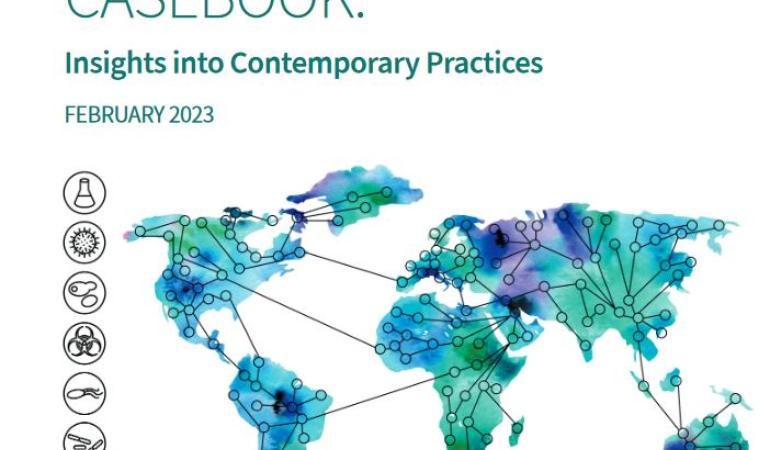 There are regular reports being published that also address biosecurity. Recently, the COGEM and the Health Council published the Biotechnology Trend Analysis 2023, in which it is expressed that the dual-use and biosecurity discussion will further increase. In February, the Biorisk Management Casebook was released, with contributions from the Biosecurity Office, featuring a case study on the application of the Dual-Use Quickscan. Lastly, Global BioLabs published a report that includes an extensive overview of various biorisk management strategies and recommendations for both national and international stakeholders.
Biotechnology Trend Analysis 2023
Developments in biotechnology are advancing rapidly. The promises are significant: biotechnology can make a significant contribution to achieving the sustainable development goals of the United Nations, as well as European and national objectives in areas such as circular economy, health, and sustainable food production. Biotechnology plays a crucial role in public health, such as in combating infectious diseases. However, technological advancements also raise legal, societal, ethical, and economic questions. Regulations must allow for innovation while also limiting risks to humans and the environment.
Biosecurity also receives attention in the trend analysis: "It is expected that the discussion on dual-use and biosecurity will increase in the coming years due to increased scientific capabilities, the aftermath of the COVID-19 pandemic, and heightened geopolitical tensions. Ensuring safety requires continuous attention from the field and governments. Current measures and regulatory systems for biosecurity are based on handling pathogenic organisms and GMOs safely. Concerns arise as new research fields emerge, where newcomers have less experience and awareness of the importance of biosafety and biosecurity. Additionally, biosecurity is a matter that requires international consultation and coordination. Countries and organizations worldwide must take and endorse measures because, as demonstrated during the COVID-19 pandemic, disease-causing organisms cannot be stopped at the border."
Link: https://www.rijksoverheid.nl/documenten/rapporten/2023/04/20/bijlage-rapport-cogem-trendanalyse-2023 
Biorisk Management Casebook: Insights into Contemporary Practices
The Biorisk Management Casebook highlights the various practices that organizations worldwide currently employ to control risks in the life sciences. The publication is based on discussions and interviews with over seventy experts and biorisk professionals from numerous organizations. It maps out the key opportunities and challenges regarding biorisk and provides insights into practical situations in biorisk management. The case studies delve into the "how" and "why" of biorisk management within organizations and what does and doesn't work in practice.
The case study contributed by the Biosecurity Office focuses on activities related to dual-use and biosecurity awareness and how the Dual-Use Quickscan can be applied (https://purl.stanford.edu/bq389xk1015).
Link to the complete Casebook: https://cisac.fsi.stanford.edu/news/biorisk-management-casebook-insights-contemporary-practices
High-Risk Laboratories Overview
Global BioLabs provides an overview of BSL-4 laboratories worldwide on their website (www.globalbiolabs.org). Recently, a report was released with updated data and sources, including BSL-3+ laboratories. Additionally, the report provides an extensive overview of various biorisk management strategies and recommendations for both national and international stakeholders.
Link: https://www.globalbiolabs.org/s/KCL0680_BioLabs-Report_Digital.pdf