Publication date 05/08/2023 - 09:08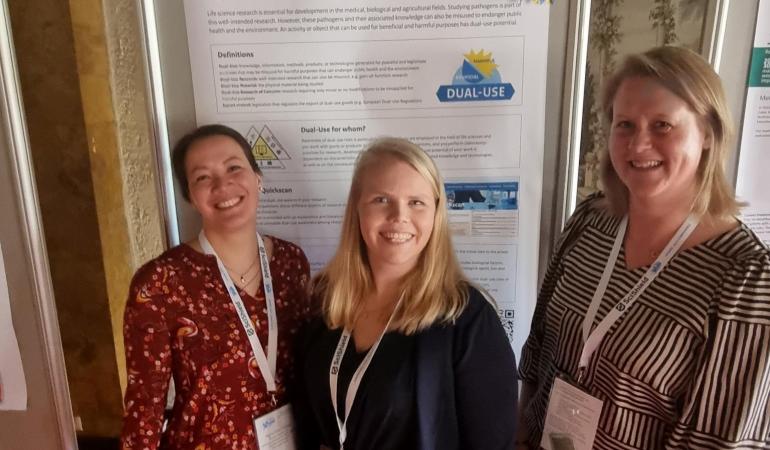 The Biosecurity Office regularly attends international meetings with the aim of sharing knowledge, acquiring knowledge, and networking. Recently, we attended the annual meeting of EBSA (European Biosafety Association), where we presented posters and gave a presentation on biosecurity awareness. Soon, the Biosecurity Office will actively participate in various meetings on dual-use.
The goal of "Biosecurity Office International" is to inform you about our international activities. Where have we been (online) and where might you come across us (digitally)? If you are attending an international meeting and would like to share biosecurity knowledge and information, please do not hesitate to contact us. We may be able to support you with materials or share our experiences from certain countries.
European Biosafety Association (EBSA) conference, Athens, April 20-21
The annual European Biosafety Association (EBSA) conference took place in Athens on Thursday, April 20, and Friday, April 21. With a varied and interesting program, it was great to meet many colleagues from the biosecurity network (again). Bureau Biosecurity presented two posters on dual-use and capacity-building projects and showcased available tools during a presentation to develop, promote, and maintain a biosecurity culture in your organization.
The Biosecurity Office at upcoming meetings
The Biosecurity Office has been invited to present the Dual-Use Quickscan at the upcoming meeting of the Australia Group in Paris in June. The purpose of the presentation is to raise awareness among members of the Australia Group about this dual-use tool. The Australia Group is an informal association of currently 43 states (including the Netherlands) and the European Commission, aiming to minimize the risk of contributing to the proliferation of chemical and biological weapons (CBW) through exports.
In June, the Biosecurity Office will attend a conference of the Biotechnology Innovation and Risk Reduction Initiative (BIRRI) in Cambridge. BIRRI is an initiative of the Nuclear Threat Initiative (NTI), a US nonprofit organization. In 2018, NTI launched BIRRI to assess biosecurity risks and develop guidelines for risk reduction. The meeting in Cambridge will discuss the project to establish a joint mechanism for companies and institutions involved in sequence synthesis. The Biosecurity Office is actively involved in this project.
In July, a Summer School on the topic of "Dual Use and Misuse of Research Results" will be held, organized by the Research Centre Jülich in Germany. The Biosecurity Office will give a presentation on dual-use aspects in research and how the Dual-Use Quickscan can be helpful in this context.