Publication date 09/21/2022 - 16:49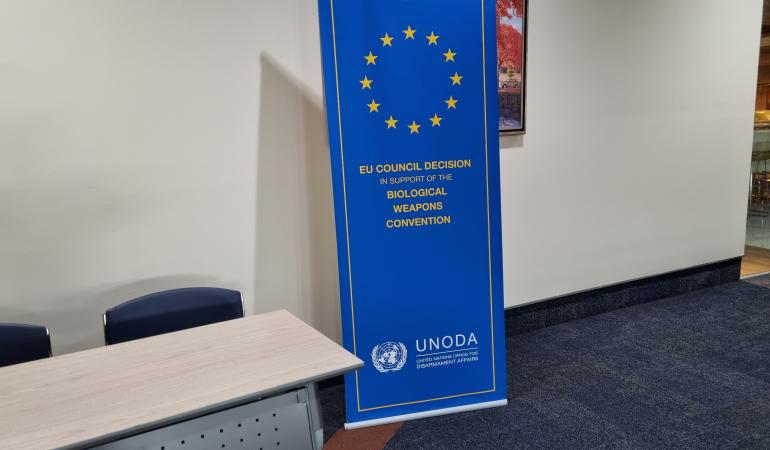 The Biosecurity Office regularly attends international meetings with the aim of sharing knowledge, acquiring knowledge, and networking. For instance, the Biosecurity Office conducted a workshop to support Sri Lanka in strengthening biosecurity. Additionally, we participated digitally in the WHO press conference where a new document on responsible handling of dual-use risks in life sciences was published. This news article provides more information about these activities.
The goal of "Biosecurity Office International" is to inform you about our international activities. Where have we been (online) and where might you meet us (digitally)? If you are attending an international event and wish to share biosecurity knowledge and information, please feel free to contact us. We may be able to support you with materials or share our experiences from specific countries.
Biosecurity Office implements a project to strengthen biosecurity in Sri Lanka
From July 8th to 10th, the Biosecurity Office conducted a second workshop to assist Sri Lanka in establishing a national pathogen inventory and strengthening biosecurity. This workshop is carried out in collaboration with the Biological Weapons Convention (BTWC) of the United Nations, with support from the EU (Council Decision 2019/97) and the Ministry of Foreign Affairs. There were 16 enthusiastic participants from various ministries and organizations in Sri Lanka involved in the development of biosafety and biosecurity policies. The interactive workshop covered topics ranging from biosecurity awareness to assessing dual-use risks. The final workshop will take place on November 17th and 18th.
Link: https://doi.org/10.1080%2F16549716.2021.1971866
WHO Global guidance framework for the responsible use of the life sciences
On Tuesday, September 13th, the WHO published a new document titled "Global guidance framework for the responsible use of the life sciences." The research and application of life sciences present both opportunities and risks to public health and safety. To ensure that current and future developments in the biosciences are used for the benefit of humanity, biodiversity, ecosystems, and the environment, it is important for the scientific community to adhere to high scientific, safety, and ethical standards. To achieve this goal and promote and strengthen safe practices, the WHO has developed this Global Guidance Framework for the Responsible Use of Life Sciences. This document also includes the Dual-Use Quickscan by Bureau Biosecurity as a tool that can be used for this purpose.
The implications of this document will also be discussed during the workshop "Dual-Use in Your Organization?" at the Biosecurity Knowledge Day on November 10th.