Publication date 07/11/2022 - 11:50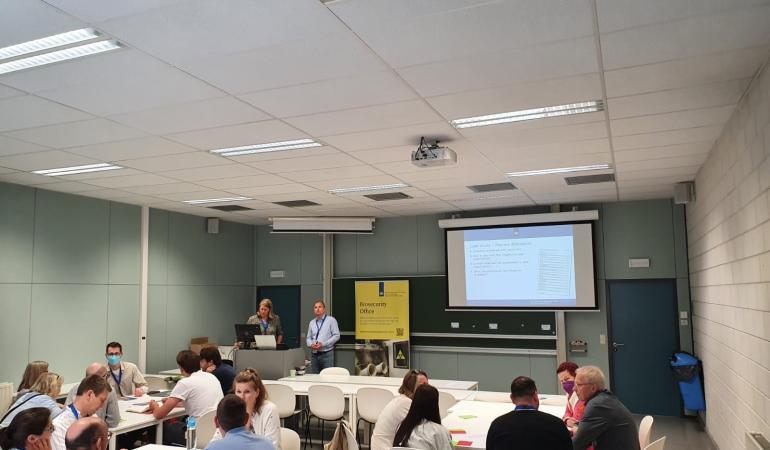 The Biosecurity Office regularly attends international meetings with the aim of sharing knowledge, acquiring knowledge, and networking. We recently attended the annual meeting of the European Biosafety Association (EBSA), where we presented a poster and conducted a breakout session. Additionally, we participated in the Biosecurity Innovation and Risk Reduction Initiative meeting organized by NTI. This news article provides more information about these gatherings.
The goal of the "Biosecurity Office International" is to inform you about our activities abroad. Where have we been (online) and where can you potentially meet us (digitally)? If you are attending an international meeting and would like to share biosecurity knowledge and information there, do not hesitate to contact us. We may be able to support you with materials or share the experiences we have gained in certain countries.
European Biosafety Association (EBSA) Conference, Ghent, May 19-20
On Thursday, May 19, and Friday, May 20, the annual European Biosafety Association (EBSA) conference took place in Ghent, Belgium. With a diverse and interesting program, it was great to meet many people from the biosecurity network after a two-year absence. The Bureau of Biosecurity presented a poster about our online tools and conducted a breakout session on dual-use. This session started with a presentation of fictional research linked to various dual-use aspects. After an introduction to dual-use, participants engaged in discussions about the potential dual-use aspects of the presented research, using questions from our Dual-use Quickscan. Points of discussion and personal experiences were then addressed in a plenary feedback session. Hopefully, this session has inspired participants to initiate conversations about dual-use within their organizations.
NTI|bio - Biosecurity Innovation and Risk Reduction Initiative Meeting, London, June 9-10
The Nuclear Threat Initiative (NTI) is an American nonprofit organization that focuses on preventing emerging biological risks, including the risks of catastrophic events resulting from unintentional or intentional misuse of bioscience and biotechnology.
In 2018, NTI launched the Biosecurity Innovation and Risk Reduction Initiative (BIRRI), which aims to reduce emerging biological risks associated with rapid technological advancements. This initiative led to the establishment of the International Biosecurity and Biosafety Initiative for Science (IBBIS). IBBIS will function as an independent organization dedicated to strengthening global biosecurity standards and developing practical, innovative tools to enforce them. IBBIS has a broadly defined mission, but initially, it will focus on preventing misuse of DNA synthesis technology. Over time, IBBIS's responsibilities will expand.
During the meeting in London, IBBIS and collaboration related to it were discussed with around thirty biosecurity professionals from around the world. IBBIS is scheduled to be launched later this year.